'Didi' Wool Slipper Bootie
Regular price
$82.00 USD
Sale price
$75.00 USD
Unit price
per
Sale
Sold out
This high back bootie is our warmest style. Cozy, soft, hand-felted wool lets your feet breathe so they stay warm (but never hot) and dry (never clammy). Perfect for days spent at home — whether you're surviving another Zoom call, stepping outside to grab the GrubHub, snuggling up by the fire with a good book, or just binging Netflix.
Seriously comfortable slippers.
Wool is a magical material. It's warm, yet breathable. Moisture-wicking, yet resistant to stains and odor. Durable and rugged, yet super cozy. It's no wonder people all over the globe have depended on wool products to stay warm, dry — and lookin' good — for centuries. Synthetic slippers get too hot, leather slippers don't breathe, socks trap moisture and provide little protection. Our wool felted slippers do none of that. Your feet will never be too hot or too cold. Clammy, sweaty feet are a thing of the past.
Support women with every pair
Our slippers are made by hand by women in Nepal, a developing country in dire need of jobs and industry. Roughly ninety percent of the women employed making slippers previously had no income-generating activities. The UN recognizes closing the employment gender gap is key to achieving gender equality, ending poverty, improving food security, and empowering women.
And because we believe the future is female, 10% of profits are donated to empower the next generation of girls.
Sustainable style
Cheap, conventional and synthetic slippers come at a big cost to the environment. They wear out, rip, and get stinky or stained. And all those plastic soles and synthetic materials add more plastic to our oceans and landfills. There is a better way. Every pair of our slippers are constructed from 100% natural materials: wool, thread, suede, and plant-based glue. More importantly, they're built to last. Our slippers are odor and stain resistant, machine washable, timelessly styled, and six times more durable than cotton.
Share
Materials

• 100% wool hand-felted upper
• Stitched suede leather sole with inner wool cushion for added comfort
• All-natural materials: fair trade certified wool, suede sole, natural rubber glue
Care information

To freshen up: Vacuum to remove debris. Spot clean by hand with water as needed. Do not scrub.

To deep clean: machine wash on cold on gentle cycle with mild detergent. Reshape around your foot while still wet, then remove and let air dry.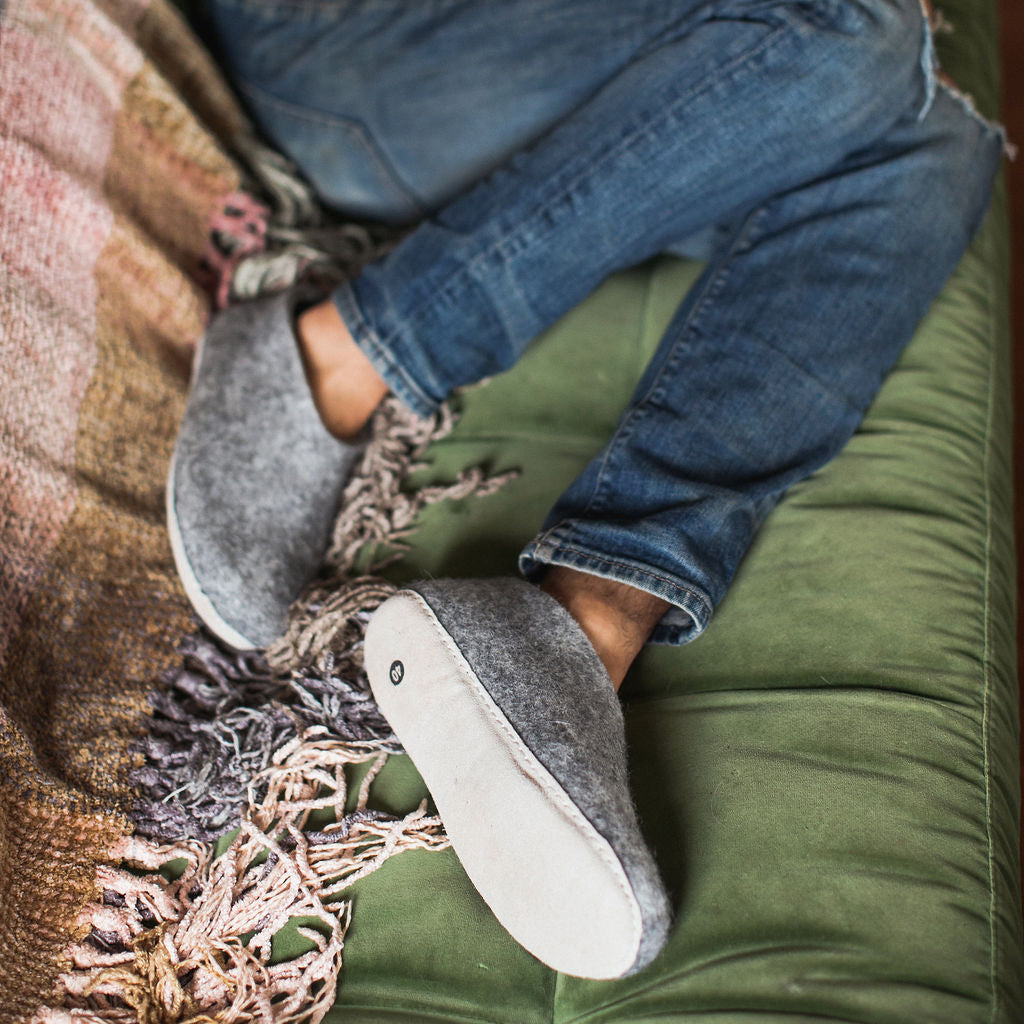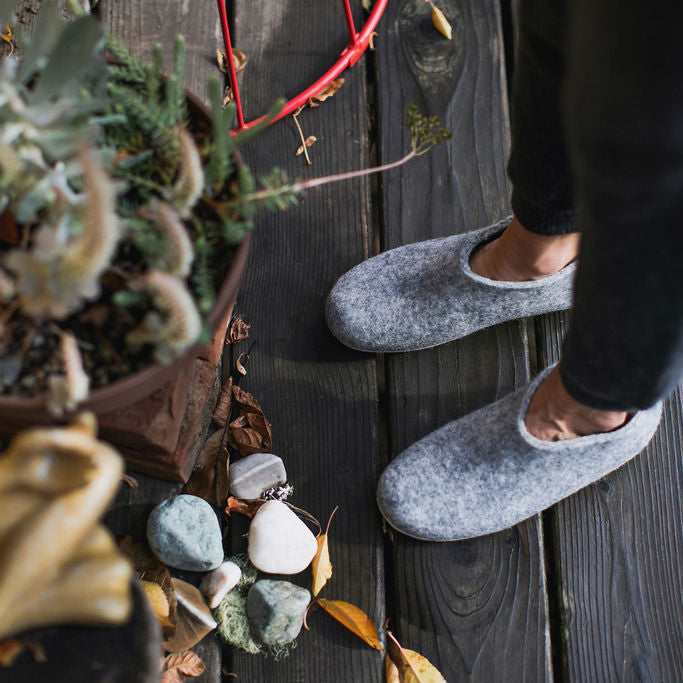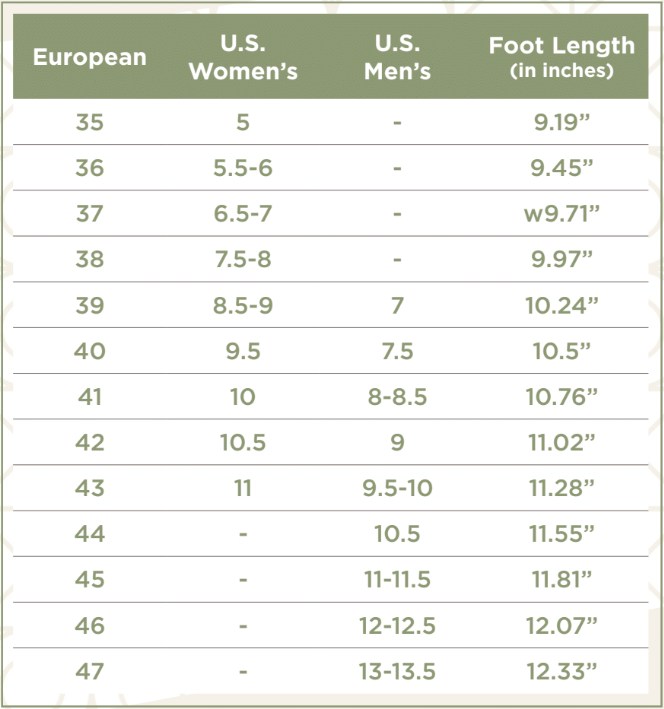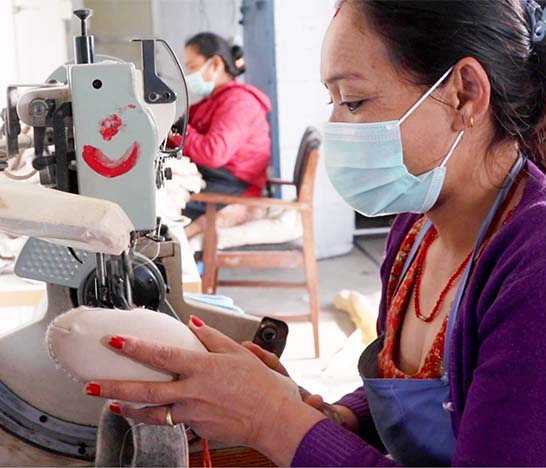 Every pair empowers women
For women in Nepal, income can mean security, respect, and the autonomy to live life on their own terms. We're proud to work with a small, family owned workshop in Nepal that supports fair wages and safe work for the women who make these slippers. Plus, 10% of our profits are donated to empower the next generation of girls.
So comfortable! I absolutely love impactful shopping and find it so important that brands make this easy and transparent for shoppers.
Such a comfy and meaningful purchase!
I absolutely adore these warm/cozy slippers that create meaningful fair wage, dignified jobs for women in Nepal! I got the peacock green and think it is a stunning color!
Wonderful
3 pairs in this household now. We all love them. First pair bought at Scandinavian fair.
my mom loved it!!
I wanted to get a sweet gift for my mommy. She wears these beat-up crocs around the house for years. Now that I have a FT job again, I thought a pair of comfy house slippers would be perfect for her and she loved it!! It made us feel extra warm and fuzzy knowing that a % goes to a great cause.
Best slippers EVER!!
Oh my goodness these slippers are amazing! They are warm, soft, comfortable, fit fantastic, and cute! They are like a mix of a moccasin and a smart wool sock! Keeps my toes cozy warm with a little extra sole so have a little more support on my feet. The color is beautiful. This pair went to my mom but I have another pair in a different color and it's equally gorgeous. I was a little hesitant as I was concerned they would be a little itchy cause of the wool but they are not at all! I will definitely be buying more of these lovely slippers!! My mom shares the same feelings! Such a good purchase!